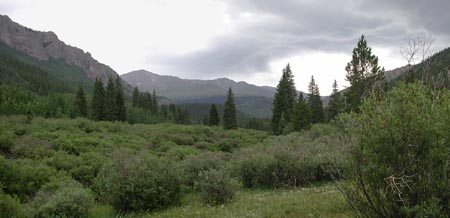 In late July of 2003 we went to Colorado. This is group 2 of the pictures we took while we were there. It was a great trip. The photo above is a high meadow near a cache we looked for during the C.A.C.H.E. meeting. We did not find the cache, but who cares.
This is part 2 of 3, the photos of the views!
Click on any photo to see the larger image.
| | |
| --- | --- |
| A meadow near our meeting. | Horses grazing in the same area. |
| Red Rocks Park outside of Denver. | More of Red Rocks Park. |
| Some rocks near the picnic area. | Tina looks over the edge. |
| Coming up to the concert area. | Leading to the parking area below. |


If you click this image and look just above the portopotties you can see the stage for the concert area and some of the seats.
The file size here is only 95 kb.






Garden of the Gods Park in Colorado Springs.
This is two photos stiched together in Photoshop.
Click this for a huge impressive 684 kb image.
You can see two climbers on the right side of the structure at left.


| | |
| --- | --- |
| The other side of the formation on the right from the photo above. | Looking lengthwise down the formation above from the left. |
Please do not use any image on this page without my permission.