One of the cool things about geocaching is that it takes you to some great places. I heard about this place and I was told it was a must see on my trip from Spokane to Seattle, WA. It really is.
From the road you see the photo above. A line of horses runs along a ridge line. But, they are not moving. It is the Wild Stallions exhibit. It is also the location of the geocache, I-90, Wild Stallions Ride Again.
After a short, steep scramble to the top of the ridge you see the stallions up close. The view of the Columbia River Gorge is also spectacular from on top of the ridge. The photo below is a two picture composite photo. If you click on the photo you will be take to a very large image. It is 1601 x 590 pixels and is 337 kb.

Click on any photo to see the larger image.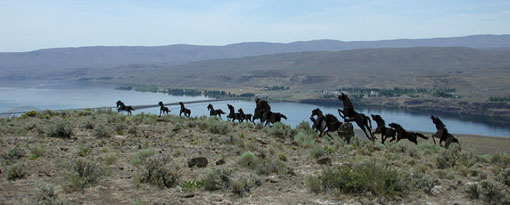 This photo shows another angle with the whole line of stallions.



| | |
| --- | --- |
| Looking back to the gorge there was a big valley down below me. | This valley went all the way to the Columbia River. |
| A close-up of the lead horse and the Columbia River Gorge. | I decided to get a head on shot to show the construction. |
| Moving to the river side I got some more great shots of the stallions. | Coming down the trail right at you as well! |
| In stride. | The pack. One of my favorites. |
| Self portrait for perspective. | Another great shot. |


As I left I snapped these last few shots. I spent quite a lot of time up there that day in June of 2005. Many thanks to TeamMisguided / Wanderlost for telling me about this place.



Please do not use any image on this page without my permission.